TENTACLON, AN ELECTRIC MONSTER
_____________________________________________________________
GARGOULE GANG GENERAL OF THE WEEK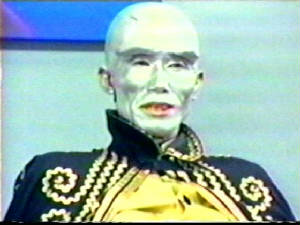 DOCTOR BOTONIST
_____________________________________________________________
THE PLOT:
A stadium with over 60,000 fans vanish, the only clue is a quick shot of a massive monster named Tenticlaw. Johnny and Jerry are sent to the sadium to search for clues, they are confronted by Doctor Botonist who claims to have used the monster to kidnap all the spectators and will blow them up if Johnny sends the Robot to stop Tentaclaw in his attempt to destroy Tokyo.

Can Johnny and Jerry find where Gargoyle is hiding over 60,000 people? Or will Tokyo finally fall to Gullotine?
THE OPINION
I liked Tentaclaw, it's an interesting plant monster and the idea of using a giant monster to kidnap thousands of people is a good one. All and all another good episode.
THE BREAKDOWN:
STORY 10.0
DUBBING 8.0
TENTACLAW 10.0
BATTLE 9.5
DR. BOTONIST 10.0
OVERALL FOR EPISODE 9: 9.5