THE MONSTROUS FLYING JAWBONE
_____________________________________________________________
GARGOYLE GANG GENERAL OF THE WEEK: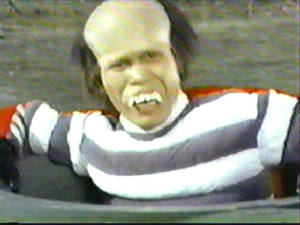 FANGAR
_____________________________________________________________
THE PLOT:
When Gargoyle Gang General Fangar launches an all out tank attack on China, it's Johnny and Giant Robot to the rescue. Crushing Fangar's plan not to mention his tanks.
Fangar is taken into custody and Commander Azuma and the U1 of the China branch of Unicorn transport him back to Toyko for trail. But they made the mistake not to take his can away from him and using a secret device built into the cane, Fangar calls the Great Jawbone monster to rescue him.
Now it's Commander Azuma and agent U1 that is the Prisoner and Fanger is going to use them as bait to lure Johnny and Jerry into a horrible trap that could spell doom for our heroes.
THE OPINION:
I hate to say it, but the Great Jawbone is one of the goofer monsters this show came up with, I did like the plot and the deathtrap Fangar came up with. Worthy of a Batman villian. Anyway, not my favorite eposides, but still a good one.
THE BREAKDOWN:
STORY 10.0
DUBBING 9.0
GREAT JAWBONE 6.0
BATTLE 7.0
FANGAR 10.0
OVERALL FOR EPISODE 14: 7.0