TOROZON, AN ENEMY ROBOT
_____________________________________________________________
GARGOYLE GANG GENERAL OF THE WEEK: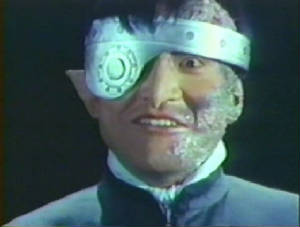 DOCTOR SNAKE
_____________________________________________________________
THE PLOT:
Unicorn Radar bases are being destroyed one by one. Johnny and Jerry are sent to gaurd the Tokyo Radar base. But the head of the radar base has a sick wife, a wife with a mysterous illness.

He finds out the illness is no accident, her sickness was inflicted by the head of the Gargoyle Gang science department, Doctor Snake. With his unwilling help, Doctor Snake sets loose Torozon onto the Radar base. Johnny calls Giant Robot to defend the radar satation from Torozon.
THE OPINION:
I liked this episode, I liked Torozon robot monster. I did find the villain this week was a little weak. But the whole episode as a whole is cool.

THE BREAKDOWN:
STORY 10.0
DUBBING 9.0
TOROZON 10.0
BATTLE 10.0
DOCTOR SNAKE 6.0

OVERALL FOR EPISODE 16:
7.5