DESTROY THE DAM
_____________________________________________________________
GARGOYLE GANG GENERAL OF THE WEEK: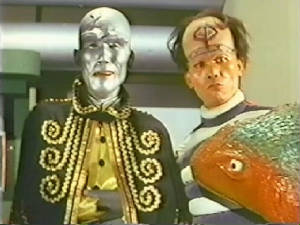 DOCTOR BOTANIST AND THE ASSASSIN
_____________________________________________________________
THE PLOT:
A Gargoyle Vine appears in a lake, raising up from the water it drains out all the water. Killing two lovers in a row boat. The Japanese Government is determined to destroy the vile vine despite warnings from the Gargoyle Vine expert that this hybrid Gargoyle Vine will only grow in strength.

What can they do, if Johnny orders Giant Robot to attack, the monster will only grow in strength, but doing nothing will ensure the destruction of the world?
THE OPINION:
An interesting episode, I always liked the Gargoyle Vine. But this episode was a little weak story wise. The waiting to figure out what to do about this hybrid Gargoyle Vine got a little boring.
THE BREAKDOWN:
STORY 8.0
DUBBING 10.0
GARGOYLE VINE 10.0
BATTLE 10.0
DOCTOR BOTANIST 10.0
ASSASSIN 9.5

OVERALL FOR EPISODE 17:
8.5