METRON: THE MYSTEROUS SPACEMAN
_____________________________________________________________
GARGOYLE GANG GENERAL OF THE WEEK: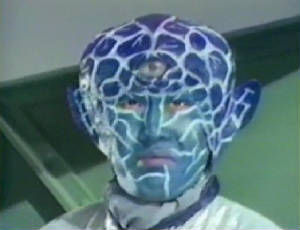 METRON, THE STRNGER FROM ANDROMINDA
_____________________________________________________________
THE PLOT:
Johnny and Jerry is sent to investigate a UFO which was spotted in the nearby forest. The pilot is named Metron, who claims to be a Police Officer from Andominda sent here to aprehend Gullotine.

But Mari doesn't trust the stranger from space and follows him. What is the real motive behind this strange alien from Andomida and will his friendship come to bite Johnny in butt?
THE OPINION:
metron is an interesting new alien, but the blending of make up and the skull cap wasn't perfect at times and the skull cap could have been better. But I liked the way the third eye moved.
THE BREAKDOWN:
STORY 10.0
DUBBING 10.0
TOROZON 9.5
BATTLE 10.0
METRON 9.5
OVERALL FOR EPISODE 19:
9.0