BEWARE THE RADION GLOBE
_____________________________________________________________
GARGOYLE GANG GENERAL OF THE WEEK: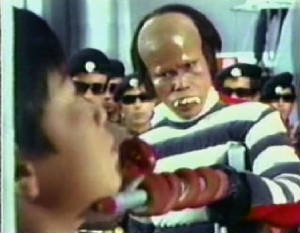 FANGAR
_____________________________________________________________
THE PLOT:
While investigating what destroyed a capsule in orbit, it was the Radion Globe hidden in an asteroid. The destruction of capsule was baiting a trap for Giant Robot.

The Radion Globe fires a beam which immobilzes Giant Robot and takes him to a secret lair. Johnny and Jerry track Giant Robot and must infiltrate the base where they learn that Fangar plans on replacing the brain with one they can control, to make matters worse he sends the Radion Globe to destroy the nuclear reseach building which could destroy all of Tokyo.

Can Johnny fix Robot and save Commander Azuma?
THE OPINION:
Besides the fact the Radion Globe is just Nucleon in another paint job this is a pretty good episode. The writing was first rate and a major chance happen in the storyline.
THE BREAKDOWN:
STORY 10.0
DUBBING 10.0
RADION GLOBE 9.5
BATTLE 10.0
FANGAR 10.0
OVERALL FOR EPISODE 20:
9.5