THE TERRORIFYING SPACE MUMMY
_____________________________________________________________
GARGOYLE GANG GENERAL OF THE WEEK: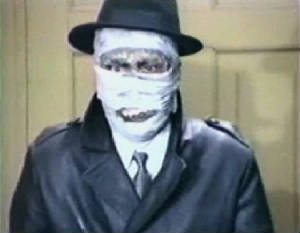 THE SPACE MUMMY
_____________________________________________________________
THE PLOT:
There is something strange going on in the city, the drinking water is containated with a poison that is turing people into Mmmies. Unicorn has traced the contamination to the local water supply and Johnny, Jerry and Mitsuko go undercover to discover the truth.

But the area of the resorvior is a convent with a sign no men aloud so Mitsuko goes on her own. But what they don't know the convent is under siege by the Gargoyle Gang and they're newest General The Space Mummy, Mitsuko is captured and the Space Mummy makes plans to turn all of Tokyo into Mummies and destroy Giant Robot with Stalker, a monster that can grow and shrink with the touch of a button. Can they escape and stop the strange Space Mummy?
THE OPINION:
I liked the Space Mummy, it's very cool. The mummy effects were also impressive and even though Stalker is just Dragon, The Ninja Monster rechased. I liked the growing and shrinking effects. All and all a good episode.
THE BREAKDOWN:
STORY 10.0
DUBBING 10.0
STALKER 9.5
BATTLE 10.0
SpACE MUMMY 10.0
OVERALL FOR EPISODE 21:
9.5