DRAKULON: CREATURE OF DOOM
_____________________________________________________________
GARGOYLE GANG GENERAL OF THE WEEK: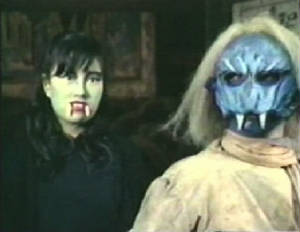 DRAKULON
_____________________________________________________________
THE PLOT:
Johnny and Jerry was sent in plains clothes to investigate where a body of a Unicorn agent was found. The clues point out to a vampire. Arriving, the town seems normal enough. But the entire village has already been converted into Vampires and the whole thing was a trap to get Johnny and his watch.

ordering Johnny to tell Robot to destroy Unicorn Headquarters or Mari dies, he obeys or does he. Can Johnny, Jerry and Mari escape the cluthes of the vampire Drakulon or will they become a part of his growing army of the undead????
THE OPINION:
I liekd Drakulon, he's a scary looking vampire. But they goofed with his neck when he changed clothes to his battle outfit, you can see the neck and the blue disappears. Plus, there was a mino dubbing error.
THE BREAKDOWN:
STORY 10.0
DUBBING 9.5
BATTLE: 10.0
DRAKULON: 9.5
OVERALL FOR EPISODE 25:
9.0