SCANLON, THE STARFISH MONSTER
_____________________________________________________________

GARGOYLE GANG GENERAL OF THE WEEK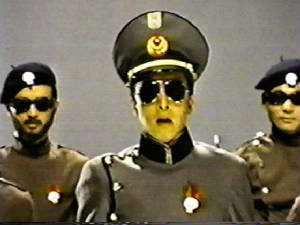 COMMANDER SPIDER
_____________________________________________________________

THE PLOT:
Commander Spider sends out Scanlon, a giant starfish monster that can fire hot acid to attack a secret Unicorn base diguised as a lighthouse. The objective, stral the Unicorn decorder.

It's up to Jerry to purposely get captured in order to retrieve the decoder before the Gargoyle Gang can decode the decoder leaving Unicorn defenseless.
THE OPINION:
Allthought this has got to be one of my favorite designs in this series, I got to admit. I had a small problem with this episode, having a white monster out during a blinding day made him hard to see at times.
THE BREAKDOWN:
STORY 9.0
DUBBING 9.0
SCANLON 10.0
BATTLE 9.5
COMMANDER SPIDER 10.0
OVERALL FOR EPISODE 7: 9.5